Click Here to Make Your Submission
TASK: Create a video representing WePlanet's Motto "Small Actions. Big Change." The video should highlight how small eco-friendly actions can lead to big changes, especially in combatting environmental issues like climate change.
REQUIREMENTS:
Video must include the phrase: "Small Actions. Big Change."

Video must depict how you as an individual OR group can take part in small eco-friendly actions to contribute positively to combatting climate change/environmental issues

Video must be no longer than 60 seconds

Make your submission via the app, using 'Eco-Submissions'

Provide your full name and contact information (phone number, email address etc.) when submitting. If submitting on behalf of a club or organization please include the name of the organization.
WHAT'S NEEDED:
Creativity (There are no strict guidelines for the format of the video, so feel free to be creative as possible; the video may take on the form of a skit, animation, spoken word etc.)

Camera and editing software (a professionally done video is not mandatory)
DEADLINE: June 28th, 2022 at 11:55 pm.
WINNERS: All submissions will be placed in the Eco-Warriors Section, and shared on the WePlanet Facebook page. The winners (one individual and one group) will be chosen from the top 5 submissions, that receive the most likes and shares on Facebook. * The top 5 will be judged by a panel of judges to determine the winners.
PRIZES: $250+ Valued Eco-Package (Individual) and $300 Cash Prize (Group)
*Please see Terms and Conditions attached below.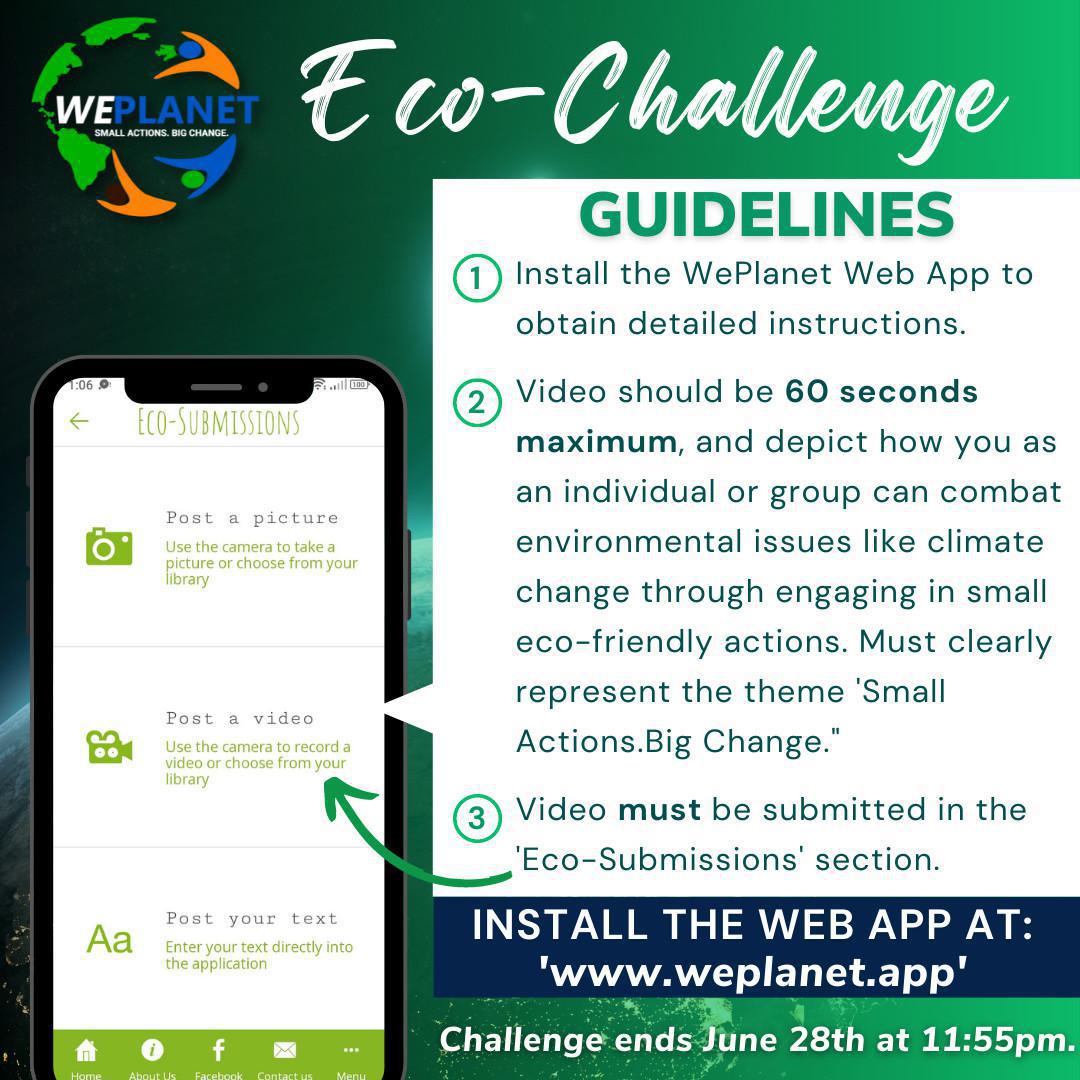 WePlanet Eco-Challenge Terms and Conditions